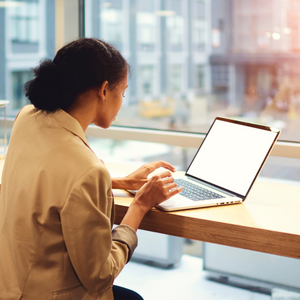 Marketing and Sales are NOT the same thing, and I hate to break it to you but your inability to distinguish between the two is costing you money.
Have you ever experienced this: low traction, slow leads, but as soon as you get a lead you convert them? I'm willing to bet that your sales plan is solid, but your marketing plan needs some work. You don't find it challenging to close the sale or convert the lead, you just wish you had more leads.
How about this one: high traffic, lots of engagement on your posts, but very little of the clicks result in sales? I'm willing to bet that your marketing plan is solid, but your sales plan needs some work. You don't find it challenging to reach your ideal client, you just wish more of them would actually convert.
Either of those sound like you? This masterclass will equip you with the tools to change that!
When I first starting coaching and selling digital resources, I used to be so happy when I would get 100s of shares, thousands of new followers for the month, and hundreds of likes.

I would be like "yesss all these new eyes = more leads = more money" - wrong ❌

👉🏽 More eyes does not mean more of the right eyes.
👉🏽 The right eyes doesn't mean that you actually captured a lead.
👉🏽 And a captured lead doesn't mean you will get a sale.

You see, I was so focused on marketing and had no real sales strategy or customer process in place. I just thought if I utilize the right marketing tactics, I would make money. And though I was making money, I wasn't reaching my goals and the money I was making from online sales was very inconsistency.

Can you relate?

Separating my marketing strategy from my sales strategy, defining my customer process, and utilizing automated sales funnel has been lifechanging for my business!


This masterclass features 4 lessons:

Distinguishing between marketing and sales: In this lesson, we will define the differences and talk about the importance of separating the two strategies.

Determining your customer process: In this lesson, we will deep dive into the 5 stages of an effective customer journey. You will map out your new effective customer process.

Developing your marketing strategy: In this lesson, we will discuss different marketing channels you can utilize. You will learn how to conduct a marketing test and build a 12-month marketing plan for your business.

Designing your sales strategy: In this lesson, we will develop a sales strategy. You will be exposed to my 7-step sales funnel and create your own funnel to automate and increase your sales.
This masterclass comes with an eWorkbook.